about us
NTL - NEVER TOO LATE. It is never too late to start, and be among the best in any sport. Age does not matter. It is based on the will and enthusiasm. Hard work beats talent !
Hokej nie je výnimkou. Základom je kvalitne a rozumne trénovať pod dohľadom profesionálov. A to všetko s nadšením a vierou vo vlastné schopnosti ! Hokejový a športový nadšenec Vladislav Baláž preto založil tréningový program na vylepšenie korčuľovania a individuálnych zručností. Pretože len istota a sebavedomie v korčuľovaní robí z hokeja tú pravú zábavu.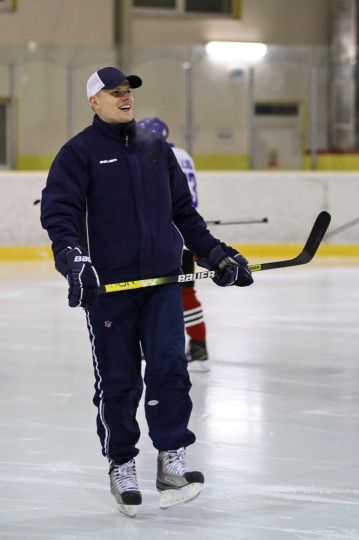 Tréningový program NTL je určený nielen pre aktívnych hokejistov, hokejovú mládež ale aj deti, ktoré sa chystajú robiť svoje prvé hokejové kroky. Na svoje si príde aj skupina dospelých "neprofíkov".
Vladislav Balaz during his professional hockey career met with top and successful hockey coaches. Andy Murray (Los Angeles / NHL), Glen Hanlon (Team Slovakia), Mario Durocher (Lewiston Maineiacs / Team Canada U20), Ernest Bokroš (HKM Zvolen / Team Slovakia U20). Under the leadership coaching elite collected daily interesting knowledge about the methods and style of coaching.
He improved his skating most in Canada under power-skating coach and one of the members of the speedskating Canadian Olympic Hall of Fame - Maryse Perreault. Combining own experience, as a pro-hockey player and hockey skills he took the best from every coach and teamate during pro-hockey scene action arises enthusiasm and willingness to help develope skating and hockey skills to everyone who enjoys hockey - one of the most beautiful and at the same time demanding sport.
Vladislav Balaz holds a second-level coaching license in ice hockey and work with hockey enthusiasts and newcomer hockey players at an early age it fills and propels them forward in the coaching education. Every progress of their wards it is the greatest satisfaction for him.